6 Ecommerce Trends that will rule in 2022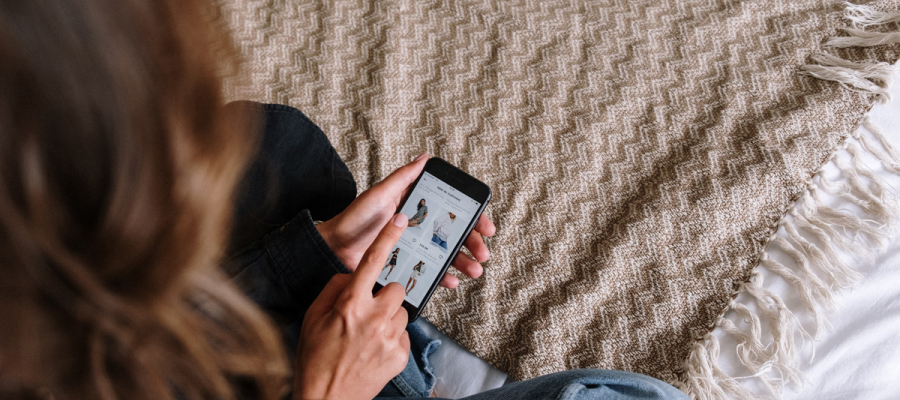 The way we shop is changing at a rapid pace, helped largely due to the huge developments in the world of ecommerce. A few short decades ago, shopping via a catalogue was considered state-of-the-art. Back then, commerce trends shifted gradually. Advancements were made over years rather than mere months.
The fast pace of today's e-commerce industry has been helped by the development of technology. Not only can you order laundry detergent for same-day delivery with the click of a button, but you can purchase products seen in photos on Instagram without even leaving the app.
The emergence of plug and play, end-to-end ecommerce platforms has enabled a rise in competition in many industries, with entrepreneurs being able to launch and scale their ideas easier than ever before.
The adoption of such technology was accelerated by the pandemic. With the general public unable to shop in local high street stores, businesses had to adapt, taking to the internet to bridge the gap. The percentage of online sales hit an all-time high mid-pandemic in January 2021, peaking at 37.7% of all retail sales.
What's trending in e-commerce?
With ecommerce continuing to dominate the retail sales market, direct to consumer brands need to compete for attention in an increasingly crowded market. So, businesses hoping to get ahead would be wise to consider how consumer behaviour is likely to change in the year ahead.
Let's review what's going to be trending in ecommerce in 2022.


Trend 1: Social Commerce and Shoppable Social


Social media has long been considered a low-value media, a poor imitation of society favoured by the vain and anti-social younger generations. In recent years, the way social media helped families and communities stay connected through the pandemic has bolstered its reputation. Yet, its value as a marketing tool continues to be overlooked by many.
At Miappi, we say the power of social media should never be undermined. Sales made through social channels are expected to grow to 3.37 trillion dollars by 2028, compared to the 475 billion made in 2021. That's an expected compound annual growth rate (CAGR) of 28.4%, according to Statista.


How does social commerce work?

Social commerce utilises online social interaction to facilitate the buying and selling of consumer goods. This phenomenon will continue to change ecommerce, mainly due to its flexible nature. Social media can shift alongside changing consumer behaviour. This ensures it's always presenting consumers with new forms of entertainment and engaging ways to shop.



Why is social commerce important?


Consumer engagement has drastically changed since the first social media platform was launched. Global internet users are now spending 2 hours 25 minutes on average a day on social media. Quite simply put, it is where we spend our time, so it makes complete sense that brands should take advantage of this. Social media platforms provide unique customer experiences that imaginative brands can wield to develop relationships with their customers and drive higher sales. It's no surprise that sales made via social are expected to almost triple by 2025.
Shoppable social media
There are many forms of social shopping, with one of the most popular being shoppable posts on Instagram. Meta continues to prioritise the Instagram shopping tab in 2022, allowing users to pursue the wares of businesses that have set up shop on Instagram and make purchases from directly within the app.
What's more, users can shop the looks they see on their favourite influencers. Gone are the days of spending hours scouring the internet to track down where your favourite fashion blogger got their new shoes. Now you can shop-the-look without even leaving the app. As long as a brand has a store set up, brands and creators can tag products in their pictures. These shoppable images have revolutionised the shopping experience and allow influencers to truly monetise their lives.
Trend 2: Video shopping


A specific form of social commerce that is growing quickly is shoppable video. With TikTok continuing to rule the world of social media, it is no surprise that video is coming out top in 2022.
A popular way to utilise video shopping is through livestreams. Live videos are a mainstay of both Instagram and TikTok, with live commerce technology allowing consumers to purchase products shown in live videos. These can be hosted by influencers, brand ambassadors, or a brand's employees.

Shopify, the e-commerce platform, saw a 61% increase in livestream selling app installs across the world between January and September in 2021 compared to the same period the year before. Other brands such as Nordstrom have taken things a step further, investing in the creation of their own live shopping channels to own the customer journey from start to finish.

Trend 3: user-generated content is leading ecommerce trends in 2022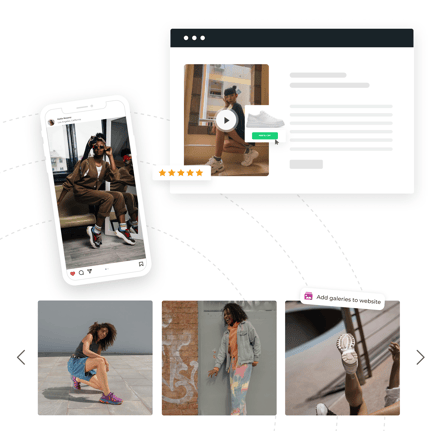 Trust always has been, and always will be, pivotal to influencing consumers' purchasing decisions. Edelman's 2020 Trust Barometer found that 70% of consumers believe being able to trust a brand is more important today than ever, but that trust is becoming increasingly challenging to win. Only 25% of consumers trust a brand based on advertising, meaning brands need to find alternative ways to connect with consumers and win trust.

User-generated content builds trust

User-generated content is a trend to keep an eye on in 2022 if you want to build trust with your target audience. UGC is earned media produced by your customers and can include photos, videos, reviews and demonstrations. UGC plays on the knowledge that consumers are more likely to gain trust in a brand based on peer conversation (92%) compared to more traditional methods.

How can brands use UGC?

UGC can be leveraged in a brand's marketing, organic social media and ecommerce sites to create an air of authenticity and generate trust. This is a fantastic opportunity for brands of all sizes to get creative and engage with their consumers. Have fun with featuring user-submitted images on product listings or promote a real-life fan's TikTok review as an advert for your brand.

Trend 4: Personalised shopping experiences


Personalisation has been a hugely popular trend in marketing for close to a decade, with Coke's Share a Coke campaign becoming one of the most renowned activations worldwide.
In 2022, however, the e-commerce shopping experience is being personalised. Research conducted by Adobe in 2021 showed that over two-thirds of retail businesses didn't have a clear personalisation strategy, though 42% of consumers are frustrated when content isn't personalised. This is a fantastic opportunity to get ahead of the competition by customising the journey through your e-commerce sites based on your customers' behaviour and data.



How to personalise the e-commerce shopping experience


While international guidelines such as GDPR limit businesses' access to consumers' data, there are still opportunities to personalise the experience using ethically gathered first-party data. First-party data is collected directly from your customers with their consent.
With a consumer's consent, you can optimise the e-commerce experience by showing the right products at the right time. A great way to do this is to personalise product recommendations based on their previous purchases and preferences, which can be acquired through quizzes and questionnaires on your site or app. Plus, with tools like Freshrelevance, you can personalise the on-site experience without having to use third-party data by utilising real-time behavioural data connected from your existing consumers.



Examples of ecommerce personalization


Not sure how to put this trend into practice on your ecommerce site? Here are some great examples:
Personalized web pages: Serve up personalised versions of your web pages based on your customers' activity on your site. By tailoring what they see around their consumer preferences, you create a unique and engaging shopping experience.
User-generated content: By combining these two trends, you can increase engagement and brand trust. Try showing customers visual UGC related to products they have previously bought or looked at on your site.
Personalized products and offers: Share offers or personalized product recommendations with your customers on-site based on the products they've previously bought or looked at. For example, offer 10% off swimwear if they have bought a swimsuit from your site before.
Personalized calls to action: By testing out different calls to action, you will learn which ones your customers are most likely to click on.
Personalized emails: By leveraging the data you've collected from your customers, you can provide a personalized email experience. This includes using their first name, tailoring the content based on their purchasing habits or sending out different content based on their demographic and location.

Trend 5: Social responsibility


Shopify's recent survey found that 44% of consumers chose to buy from brands with a 'clear commitment to sustainability,' suggesting that consumers are beginning to put their money where their mouth is.
Higher numbers of consumers demand higher standards from brands when it comes to sustainability, social responsibility and their impact on the future health of our world. According to The Economist, there has been a 71% increase in online searches globally for "sustainable goods" over the past six years. While many consumers continue to happily purchase fast fashion, which allows individuals of all economic statuses to participate in fashion trends, there is a greater appetite for sustainable, ethically produced fashion. The same applies to homeware, consumable goods and technology.

Opening the door for micro-businesses

The increasing demand for socially responsible brands has created opportunities for smaller, more agile businesses to enter the market. This is partly due to new market players looking to meet customer demands and because it takes longer for market leaders to adapt.



Trend 6: Building communities to increase brand loyalty

With increasing limitations being put on ecommerce businesses through data restrictions and advertising price hikes, brands are seeking alternative methods of engaging with consumers. One fantastic way to do this is by building a brand community.


What is a brand community?

Brand communities aren't created overnight. Yet, the investment in creating a loyal and engaged community of brand champions is always worth it. A people-centric marketing technique, brand communities seek to connect brands with enthusiastic and creative customers who love their products. 'Community' refers to a subset of a brand's audience who have formed a connection with the brand due to it meeting a social or emotional need and having won their trust.

What are the benefits of building a brand community?


In the world of ecommerce, developing a strong brand community can go a long way to securing success for an online brand. Not only do community-specific channels, such as Discord channels, provide an opportunity for these creative consumers to feed into product innovation and provide real-time feedback, but customers are offered something exclusive and meaningful. By combining exclusivity with ethical rewards, such as courses, workshops or charitable donations, communities help develop committed brand advocates.
So, how do brands go about developing a creative, trusting, enthusiastic community? Read on to discover how Miappi Community creates invite-only experiences that allow brands to nurture collaborative relationships with their most engaged customers.

Will ecommerce keep growing?


Short answer: yes. There are no signs to suggest ecommerce growth will slow. After all, the pandemic has fundamentally changed the way we shop. Data shows that online retail sales have not returned to the levels we saw pre-pandemic and can only be expected to grow.

Why is this? In recent years, brick and mortar stores have struggled to keep up with rental costs and declining high street footfall. More and more shoppers are turning to ecommerce now that they know how easy it is to shop in online stores. Shopping online has many benefits, such as access to online-only discounts, delivery straight to your door and personalised experiences.

What is the future ecommerce trends beyond 2022?


Considering the rapid growth of ecommerce and the speed at which new trends and technologies are developed, it'll be interesting to see how we shop in 2030.
In the next few years, we can expect to see an increase in the number of brands that offer shopping experiences that don't rely on e-commerce sites. These will be integrated into social media, third-party apps and the metaverse, providing a true multi-channel shopping experience.
With the war on cookies and data collection continuing, there will be more pressure to collect first-party data ethically. This will help optimise the shopping experience, leading to more highly-personalised consumer journeys. Consumers can also be expected to continue their demand for diverse product ranges that cater to all lifestyles, budgets, body types and experiences.
How Miappi can help you harness the power of consumers' changing behaviour
Consumer behaviour and the way online shoppers engage with brands are changing. If you want your business to succeed in 2022, it's recommended that you adapt by adopting one or two of the most popular ecommerce trends we've discussed here.
Helping brands adopt modern marketing strategies that are aligned with what customers desire from online stores is what we do best. At Miappi, we pride ourselves on helping our partners leverage the power of user-generated content, providing high-quality, engaging and authentic content that customers love.
We specialise in helping consumer brands and large retailers pair their most valuable UGC with product pages, in order to boost sales.
In today's over-saturated e-commerce market, it pays to stand out. Make the most of consumers' desire for authenticity and connection by providing them with just that. Our UGC platform allows you to discover new creators, licence amazing content and republish authentic, unique, creative content, including images, videos and reviews, to your owned marketing channels.
To make the most of 2022's most popular ecommerce trends and discover the full potential of user-generated content, check out the Miappi UGC platform.