Miappi Social Media Analytics and Reporting Tools

It's the moment you've all been waiting for – Miappi's new, advanced social media analytis tool is now live! This brand new toolkit has given our social media aggregation platform a serious IQ boost which you can now use to your advantage.
Your Miappi wall has always been much more than just an attractive way to showcase social content in real time. Now it's even smarter, offering game-changing social insights and tools, conveniently within your account.
The importance of Analysing Social Media
Most brands have realised (and adopted a strategy) the importance of social media. In the digital world we are conducting business, social media plays a huge role in shaping ideas, opinions and sharing messages. It's no wonder then why brands are heavily investing in marketing campaigns based on social media. Be it hashtag campaigns or a combination of DOOH with a relevant hashtag competition, social is omnipresent.

A smart marketer, however, wont be content with just using social media for their employer. The devil lies in the details, hence, a constant, deep and detailed analysis of social media is equally important with social media. In other words, if you're going to use social media for your marketing strategy but wont bother analysing your performance, you're better-off not using social at all in the first place!

Thus – Enter: Social Media Analytics! There's a plethora of tools out there that can help you with analysing your social media campaigns' performance. Which one you'll choose heavily depends on your needs. All you should definitely know is that, while you want to market your product/ service online and join the chatter, you'll need to have clear set objectives beforehand for your analysis to be effective and lead to meaningful conclusions.
Social Media Analytics with Miappi
At Miappi we are in the business of obtaining the social proof from your customers in the form of social media. We then display this social proof on the digital touch-points that will make the biggest difference. It can be websites, email campaigns, digital screens, paid advertising and many more. However, it's very important to be able to track and measure the performance and progress of said social proof. That's why we took a step back and developed a tool that gives insights on how the UGC you obtained or your owned content behave.
How to do social media analysis with Miappi?
From tools which allow you to identify the most influential contributors of user-generated content (UGC), to options which allow you to measure call to action (CTA) effectiveness, we've packed a whole lot of fantastic new stuff under the bonnet of our analytics update. Start analysing your social media today and get even smarter at social.
Here are some new social media analytics tools to look out for…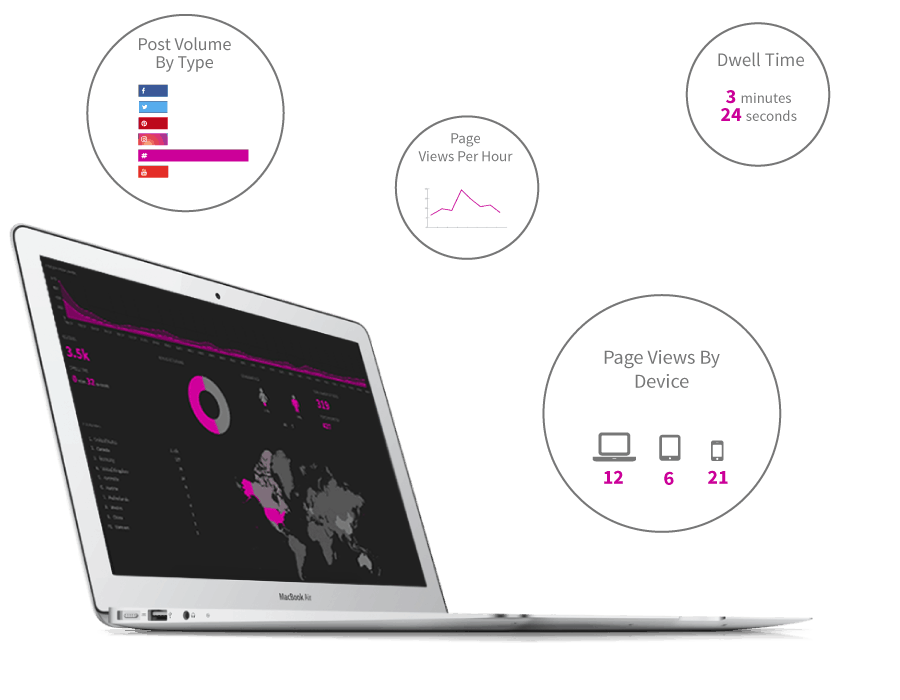 1. Global user data
How many users have perused your social wall? How many times have they returned and how long do they typically spend with your social wall? Have they interacted with many posts? Where exactly in the world are your visitors from?

All of these questions and more can be answered with our freshly updated global user data, which provides accurate, real time data about who is visiting your wall and how they are using it. Invaluable for setting yourself targets and measuring the effect of new strategies, this incredibly useful data will help you constantly improve the effectiveness of your social wall and strategies.
2. Top CTAs by clicks
In a recent blog we explained how to add CTAs to posts on your social wall. Now this new analytics tool will allow you to monitor their performance. Whether you're A/B testing on different posts to see which CTAs generate the best results, or simply working to improve on last month's clickthroughs, this tool will help you continually perfect your calls to action.
3. Top Link Tiles by clicks
Discover which Link Tiles on your social wall are the most popular. Monitoring the popularity of each message by clicks will help you to curate a social wall which your visitors love, continually finessing the content you display (be that brand owned or UGC) and improving clickthroughs to your target destinations.
4. Demographics data
Get even more insight into who's looking at your social wall. From age and location, to gender, this tool will help you learn more about your audience and constantly tweak your wall to appeal to them.
Creating a Social Media Analytics Report

Need to show your colleagues or higher ups exactly how valuable Miappi's social walls are to your business? Our new reporting tool will serve up the results and statistics you need. Especially if you wish to demonstrate the ROI of your favourite social media aggregator. It includes everything. From page-views and clickthroughs, to returning visitors, our reporting option is incredibly helpful. Whether you're setting new targets for next quarter, or demonstrating value to your higher ups our social media analytics feature is here to make your life easier.
How to write a social media report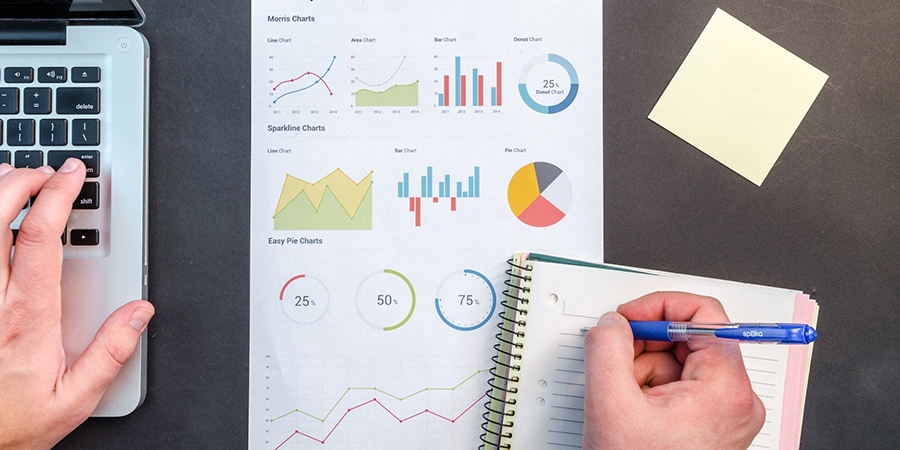 Miappi's Social Media Analytics Tool gives insights about the performance of your social wall. You'll still have to write a social media analytics report for one or more stakeholders. Writing a report is never easy and can be time consuming but it's an integral part of the process.

So how to write a social media report? Here is some advice you might be looking for.
Showcasing for example how many and what kind of interactions your widget had, can lead to important decisions regarding the content you choose to display.
After you've identified who this report is for and adapted your tone, you'll need to show on the methodology.
Give context and a background. What are you trying to measure? What is the goal of the campaign?
Keep the report short and succinct.
Represent the data in an engaging way with charts, pies and bars. Visuals always help.
Finally, you can include a photo of a nice post collected by Miappi that talks nicely about your brand!