A Social Media Aggregator: What is it and Why You Need One

Content aggregation is the new content creation. As marketers, we've heard a lot over the last five years or so about the importance of content creation, and entire industries have popped up around the creation and delivery of high quality content in the places where it'll make the most difference.
Many social media marketing gurus will talk to you about the importance of creating different types of content to capture the attention of different types of customer. This typically ranges from short-form written updates on social networking sites to professional quality video productions, audio podcasts and image-based updates varying from memes to infographics.
And it's true that it's a good idea to have a certain amount of variety if you want to hold people's attention. At the same time, though, creating all of these different content types can be both expensive and time consuming, especially for smaller companies with low budgets and few resources.
The good news is that there's something out there to offer up a helping hand. It's called a social media aggregator
What is a Social Media Aggregator?
If we had to define social media aggregator, we'd describe it as a piece of software which brings together updates from across different social networking sites and displays them in a single place. A good social media feed aggregator will allow users to specify search terms, select the social networks that they want to display content from and then embed that feed in a location to suit them.
Social media aggregation tools typically work by querying social networks for the search terms that the user enters and then sorting the data to determine what's most relevant for the specific use-case. For example, if it's designed to only display images then the aggregator would automatically discard updates that don't include an image.
This means that we could technically refer to them as a social media data aggregator, because they're not just processing the content. They're also processing the accompanying metadata to understand more about what those updates actually include and giving marketers more control over how that data is used. For example, they could include only posts from a certain geographic area or which received a certain amount of engagement.
Why use a social media aggregator for websites?
One of the main reasons why you'd want to consider using a social media hashtag aggregator or a social media news aggregator is the fact that it creates a sense of social proof. This encourages potential buyers to take your company more seriously in the same way that if a book has sold two million copies, it makes it more likely that someone else will pick it up.
The idea behind social proof is that we tend to trust recommendations from our friends and family more than we trust what brands say about themselves. That's why we ask people for recommendations before we make purchases and why we read the reviews on product pages. Sometimes that little bit of social proof can make the difference between whether someone makes a purchase or not. That's why it can be particularly powerful if you use them on ecommerce sites or at the point of purchase. Some retail stores even use social media aggregators to display UGC in-store.
User-generated content is extremely effective at creating this sense of social proof. UGC ads get 4x higher clickthrough rates and brand engagement increases by an average of 38% when visitors are exposed to a combination of branded videos and UGC. As if that wasn't enough, UGC videos on YouTube get 10x more views than videos that were created and uploaded by the actual brand.

For most brands, the biggest challenge is encouraging people to create and share content in the first place. This is especially true if you're asking them to create video content or to go out of their way to do something that requires a lot of effort. That's why many companies choose to offer a reward of some sort, whether that comes in the form of vouchers and discounts or whether it's just the recognition when they visit your website and see their content on the front page.
What is the Best Social Media Aggregator in 2018?
If you're looking for a social media aggregation platform then the first thing to ask yourself is what kind of content that you're hoping to display. Video aggregation tools tend to be very different to text-based tools, and some tools specialise in specific social networks while others pride themselves on their ability to support a variety of different social networking sites. It's not as simple as just recommending the best social media aggregator. You need to figure out which is the best aggregator for you.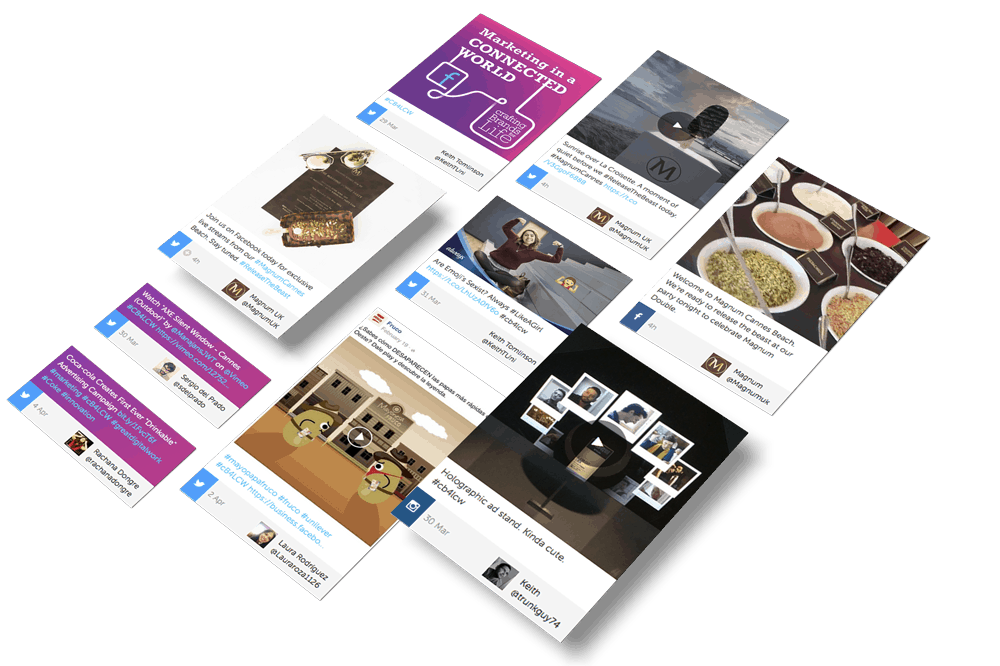 Here at Miappi, we like to think that we're the best social media aggregator for a wide variety of different use cases. There are other tools out there that might work better in specific circumstances, but we've specifically designed our tool to be as versatile as possible while giving you the utmost control over what content is displayed.
Ultimately, when it comes to social media aggregation software, any provider is better than no provider at all. We've already talked about the benefits of using a social media aggregator and so you shouldn't need further encouragement there. But the good news is that the benefits far outweigh the disadvantages. In fact, the only real disadvantage is the chance that your query will bring in content that reflects badly upon your brand or which sends out a message that you're not happy with. That's why it's a good idea to find an aggregation tool that allows you to moderate content before you post it.
Getting started with a social media content aggregator
Most social media content aggregators are pretty simple to install. You usually sign up with the provider, specify the search terms that you want to use and then receive a snippet of code that you can embed on your website. This is usually still true for those tools that allow you to moderate whether posts are included before they're displayed on your website. They'll simply add any new content to a queue and wait for manual approval.
The ease with which these tools can be customised and installed is one of the things that make them so powerful. It helps to level the playing field between massive multinational companies and small startups. That's why it's such a good idea to aggregate online media for social media marketing. It provides a source of content that's both cheaper and more powerful than creating the content yourself.
So if you're looking for a way to level up your marketing and to make your website work much harder for you, give a social media aggregator a go. Or better still, get in touch with us at Miappi so that we can take a look at your specific use case and give you some advice on what's going to work best for you. We hope to hear from you soon!