A Twitter Wall: Make a Great Twitter Wall for an Event

Events no longer take place only in person, and most marketers are already aware of that. Thanks to social networking sites like Facebook and Twitter, almost every event that you can think of now takes place live online in real-time. And this is happening whether you encourage it or not, and so you might as well take the time to guide the direction of the conversation.
If you want to do that, you need to take steps to actively encourage social conversations, and using a Twitter wall is a great way to do that. After all, there's plenty of free Twitter wall software out there to help you to get started, and most of it can be easily displayed on everything from websites to smart televisions.
That said, if you want your live Twitter feed wall to be as effective as possible, you can't just set it up and forget about it. You need to put in the work to make sure that it's working as hard as it possibly can, whether that's by having your speakers remind people to use the event's hashtag or whether it's by monitoring the feed to remove spam or to highlight your favourite tweets.
How to create a Twitter wall?
Are ready to get started with a free Twitter wall for events?
Set up the Twitter Wall
Find the provider – The first thing you need to do is to find a provider that can meet your needs. The most basic software simply asks you to enter a search term and then displays all of the results, but that might not do the job.
Be able to moderate the wall – It's a good idea to search for a free Twitter wall with moderation so that it's easy for you to approve and reject people's tweets on the fly.
Customise the colours and use your brand – More advanced software includes other features and customisation options, such as the ability to use your brand's logo and colours.
Use visual content – if you're expecting people to share visual content then it's worth looking into a Twitter wall with pictures so you can make the most of them. Encouraging people to share more visual content can also have a knock-on effect when it comes to how your content performs on social networking sites. Visuals help to cut through the noise.
Embed the Twitter wall – Of course, you'll also want to make sure that whichever Twitter feed wall that you go for, it gives you the ability to embed it wherever needed. Think about including it on your website, on microsites and even on the event listing page on the run up to it so that people are encouraged to talk about it in advance and not just on the night of the event. Be creative when thinking about where to embed your feed, and make sure that it's in apps, on screens on the big day and anywhere else that seems relevant.
Moderate your live Twitter wall
Simply setting up a live Twitter wall for events isn't enough, because not everyone will play by the rules and respect the brand. Even if everyone at the event is contributing to conversations in a positive way, there's nothing to stop someone from outside the event seeing the hashtag and adding it to their posts for extra exposure, no matter whether it's relevant (and safe for work) or not.
In the vast majority of cases, the worst thing that's likely to happen is that your hashtag could get hijacked by a spammer or two, but there's no shortage of cases like the McDonald's #McDStories fail that show what happens when hashtags go wrong. That's why seeking out a free Twitter wall with moderation functionality is a good idea if you want to be able to control and guide the conversation. Even if you have to pay extra for the privilege, it's usually worth it.
Moderating a Twitter wall for events can require different approaches depending upon how it's being used. For example, if you're embedding a Twitter wall on a microsite on the run up to the event, you might want to hold all tweets in a queue and manually approve or reject them. At the event, though, it may be wiser to approve all posts instantaneously and to have a staff member whose job it is to oversee the feed and remove anything that's inappropriate.
Find inspiration – The best Twitter wall for events
We know that it can be tempting to just search for the best free Twitter wall you can get your hands on, but sometimes it's worth going the extra mile and paying a small fee for better software with greater flexibility. It really depends upon your specific needs and so there's no simple answer when it comes to which Twitter wall software is best. It's all subjective.
Factors that you will want to consider are whether the software allows you to customise it with your colours and logo and how advanced its search settings are. Ask questions like, "Should this only display tweets by certain users?" and, "Do I want the Twitter wall to rank posts based on when they were posted or on how much engagement they received?" Experiment with different pieces of software and go with whichever one works best for you. If that means having to pay for it, so be it.
Perhaps we're a little biased, but we like to think that Miappi is a good solution. We've put a lot of work into making it easier for brands to make the most of their user-generated content, whether that's tapping into Instagram photos or whether it's using a Twitter wall to make sure that your event goes with a bang.
We've worked with clients of all sizes, from small business to huge organisations like Cancer Research UK, Sony Music and Puma to display, curate and distribute user-generated content from Twitter at events and on microsites. We're all about taking that content and displaying it wherever it's going to have the highest impact. Sound interesting? Get in touch with us to find out more or to organise a free demo.
Creating a Stunning Twitter Wall with Miappi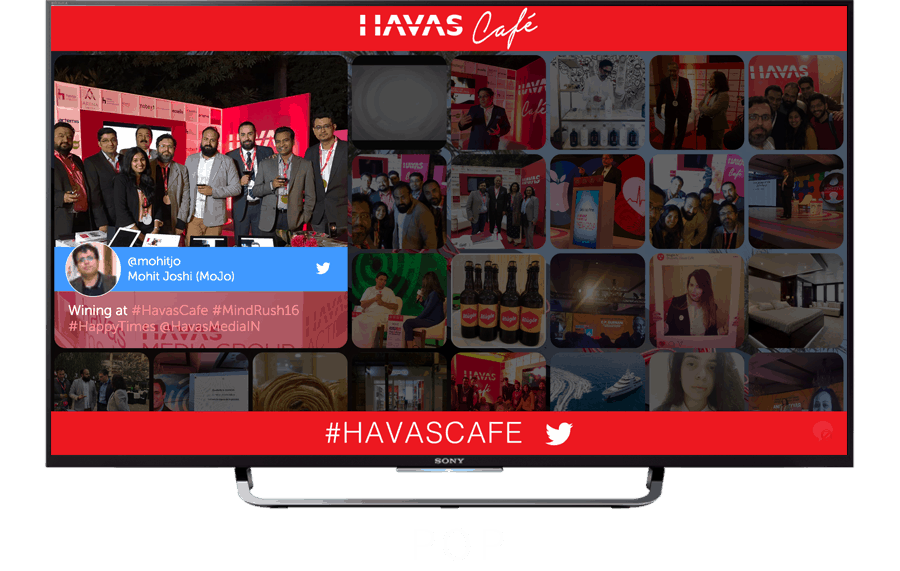 You already know that Twitter wall plays an integral part of brands social media strategy. However with the growing saturation of content on it, brands are finding it increasingly difficult to both find and showcase quality content using Twitter on its own.
This is where Miappi comes in. Using our
social media wall platform
, readily aggregate all of your brand owned and user-generated Twitter content, and identify what is valuable enough to be promoted by Miappi Twitter Wall.
After carefully curating content for your Twitter wall, display it on a range of digital touchpoints, ensuring your most compelling Twitter content is seen by your desired audience.