Content Aggregator: What is it? How to Aggregate Content Like a Pro?

Content aggregation is big business at the moment, and some companies are basing their entire business model around aggregating content. One of the most well-known content aggregator examples is AllTop.com. It was founded by tech legend Guy Kawasaki. AllTop is covering a wide variety of different niches, but there are plenty more content aggregation sites out there that focus on being very, very good at a single thing.
In fact, the best content aggregator sites are so good at what they do that they end up becoming the go-to site in their niche. When that happens, it also means that they're offering a lot of value to the people who are creating the content in the first place. Why? Because they're extending the reach of that content and helping to introduce the creators to new readers.
Because of this, content aggregation tools come in useful in a wide variety of situations. It doesn't matter whether you're a publisher or whether you're a brand or a blogger. It doesn't matter whether we're talking about their potential to increase your reach or the fact that they can save huge amounts of time. Content aggregator software has a lot going for it. Let's take a closer look at what it is and what it does.

What is a content aggregator?
So, let's find the best way to define content aggregator:
Content aggregator is as a piece of software which users designed to pull data from multiple sources and to publish it in a single place.
A great example of this might be a news aggregation site. This receives press releases from multiple sources and which then publishes them all in a single place.
Content aggregation is similar to poll aggregation. Polling data from different regions is pulled together into an interface to make predictions on the outcomes of voting events. It's not uncommon to see aggregators that specialise in other types of content, such as review or social media aggregators.
As you can probably tell, there's a huge amount of variety when it comes to content aggregation. But no aggregator can do it all, which is why the best content aggregator apps specialise in specific niches. That way, they make sure that they're not missing a thing and only sharing the most relevant news to visitors.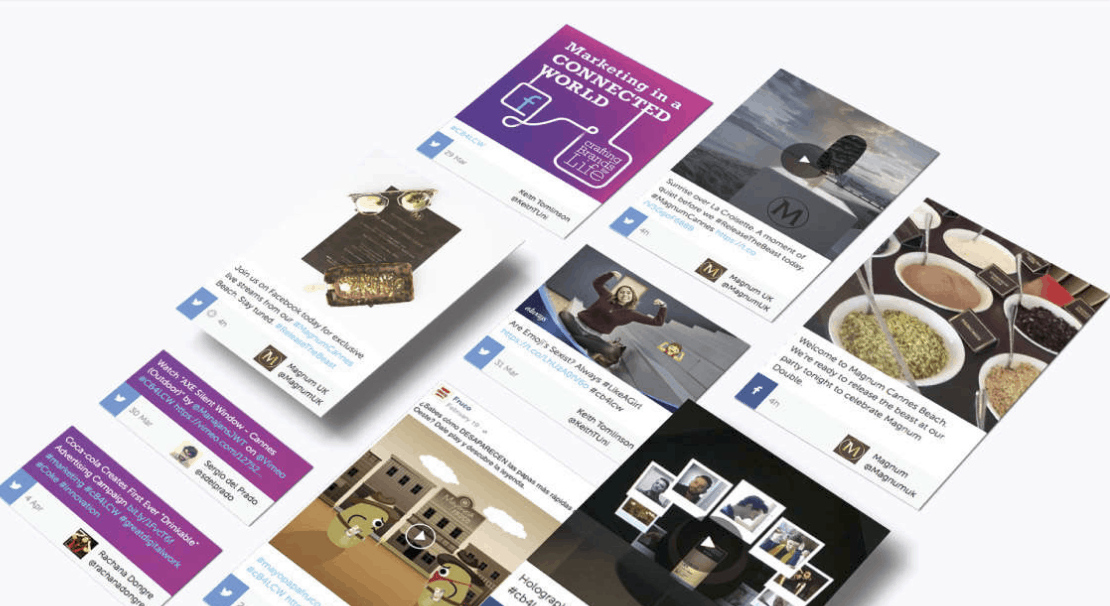 The difference between content curation and aggregation
Now, you might be wondering what the difference is between content curation and aggregation. The two approaches are similar but not synonyms, and both of them come in useful in different circumstances.
As a general rule, the main difference between content curation and content aggregation.
Content curation – users manually review curated content and often manually tweak it with hand-written introductions to each piece. This approach takes longer than content aggregation. It usually results in there being less overall content. It also allows you to take a more hands-on approach to what's being shared and published.
Content aggregation is a little bit different because the process depends largely on automation. When you set up a web content aggregator, you can usually specify the rules it uses. That's done either by excluding certain types of content or by creating automated processes that customise the software's eventual output. Aggregation takes less time – after you set it up in the first place, at least – which is why it's so popular in the first place.
2 types of content aggregation
As if content aggregation wasn't confusing enough, there are also two different forms of it:
the process of aggregating content from other providers and publishing it on your own site.
the process of creating content of your own. You'll later submit this content to aggregation feeds so that other people can syndicate that content to their own site.
The latter of the two options can be a great way to get more mileage out of your written content. But that's not what this blog post is about. We're going to focus instead on how to aggregate content from other sites. We'll also focus on how using a content aggregator can be a great way to get more mileage out of your own site.
How to aggregate content like a pro?
Point a difference
When it comes to aggregating content from other sites, the pros know that there's no point just copying their competitors. If everyone's gathering their content from the same source then there's no reason to pick any one site over another. You need a point of difference. A great way to establish that point of difference is to seek out a more powerful aggregation tool.
That's where tools like Miappi's come in. These platforms are a purpose-built content aggregation machine. Their design is to pull in social media content. They aggregate it and then display it in a location to suit you. This includes all forms of digital real-estate. From websites and blogs to digital billboards and even point-of-sale devices in stores and on location. With Miappi for example, you can even manually moderate all of the content and rank it in order of priority. In this case you're hitting people with the most powerful UGC you have access to.
TIP 1

Be unique! Gain interest! Use content aggregator tool and gain access to a number of news from different publishers.
Augment your aggregated content with your own original content
Just remember that content aggregation comes with its own set of best practices, several of which we've talked about in this article. The main thing to consider is that search engines don't take kindly to duplicated content.
You may want to augment your aggregated content with your own original content. Even if that's only by creating unique category pages or by manually adding commentary. Even creating leaderboards to showcase the most-read or most-shared content will help. Why? Because it gives your aggregation site a resource that others might be missing.
TIP 2

Avoid duplicated content! This may harm your SEO efforts. Make your news even better by blending some original content.
Social vs. Regular content aggregators
Regular content aggregation is starting to die out, but social aggregation is stronger than ever. After all,
93% of consumers find user-generated content to be helpful when making a purchase.
Social networking sites are a gold mine of UGC if you know where to look. That's part of what makes Miappi so powerful. It helps you to track down and to aggregate user-generated content before displaying it in a location of your choice.
Content aggregation is as powerful of a strategy in 2018 as it was in 2010. Any form of aggregation is a great way to augment your marketing strategy. However, using the right tools can make a world of difference.
Miappi isn't the only tool on the market, but it is one of the most powerful. Used correctly, it can lead to a:

300% increase in dwell time

90% higher conversion rate amongst online shoppers.

You don't have to use it – but why wouldn't you?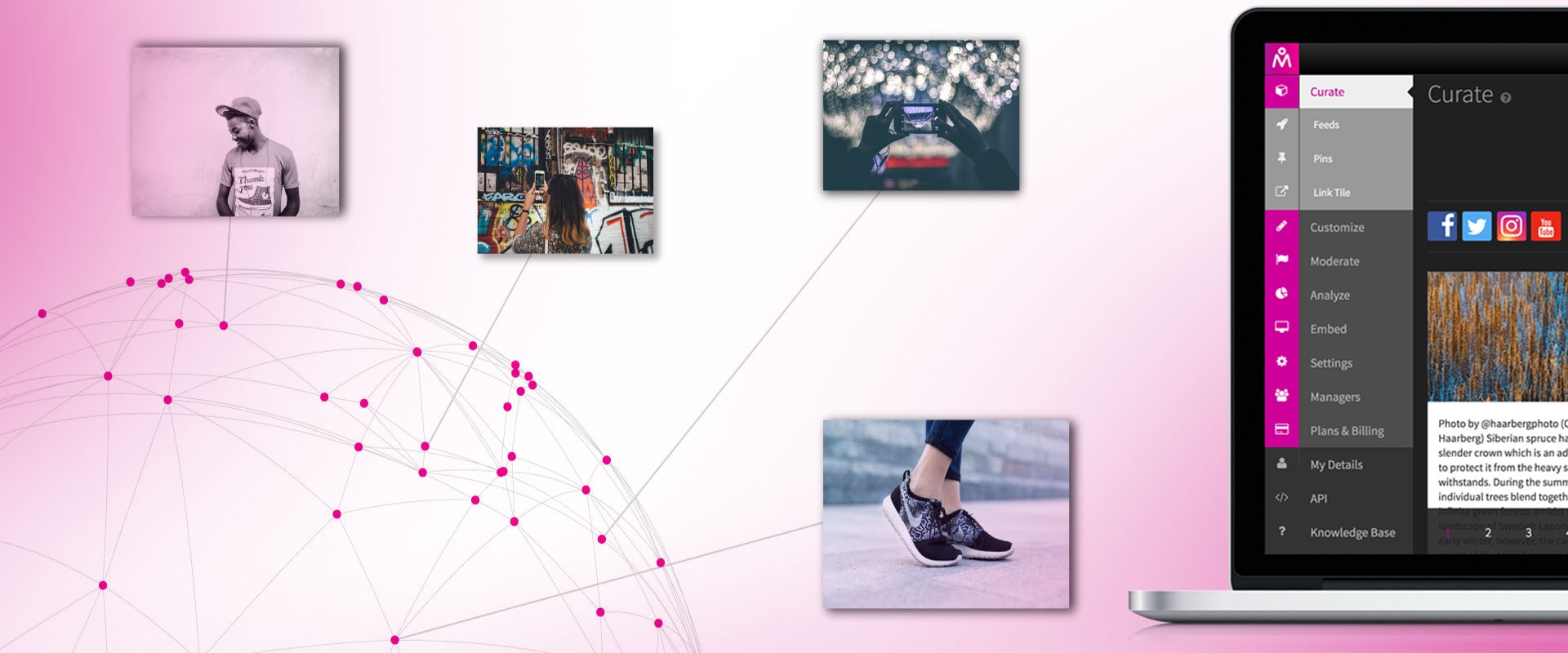 Conclusion
By now, you should know everything you need to know to get started with content aggregator websites. Contrary to what many people assume, the biggest challenge isn't necessarily to setup the APIs and configure the content feeds. The biggest challenge is usually to find some way of adding value to your readers beyond just sharing the aggregated content.
Still, with the tips and tricks that we've shared in this article, you should be off to a good start. Once you've settled on a content aggregation platform and started publishing content on your website, follow with the next steps. The next one is to monitor the response through your analytics and to test and refine them over time. And if you're using Miappi, you'll be given access to more analytical data than ever. You can make every decision based on data instead of relying on a gut instinct.
Listen to what your visitors say. Continue to make changes over time to both the content that you aggregate and to the rest of the website. Do more of what works and less of what doesn't. Good luck.