YouTubers: Why Vloggers Matter to Digital Brands

Sometimes it can seem like the digital marketing sphere proclaims a new medium "king" every other week. For a few years now, however, the digital crown has belonged to "content". But the times they are a-changing…

Today brands are increasingly shifting their content production focus away from longer form articles and infographics, instead choosing to invest their resources in digital video.

We recently shared a post all about the rise of live video, exploring the growing trend, its benefits and how to embrace streaming live as a brand. Today we'll be taking a broader look at video content, its past, its present, what lies ahead and how brands can benefit from producing, sponsoring and investing resources in video content.
Let's start with a quick history lesson…
If you were watching the very first digital video format (created in 1984) today, you'd have to seriously squint to make much out. H.120 was comprised of 30 black and white frames per second at 2 Mbit/s. It didn't look great, but it was crucial to the discovery that in order to create watchable digital video, groups of pixels would need to be coded together.
By 1988, the International Telecom Union had stepped up the game, creating H.261 – the first digital video compression standard which was adequate for widespread use. With a resolution of 325 x 288 and 40 Kbit–2 Mbit bitrate, H.261 provided the basis for all modern video standards, leading to the development of MPEG in 1991, DivX and Xvid in 1998, FLV and MOV in 2003, along with an ever-improving barrage of technology right up to the present day, including formats and containers for mobile devices.
All of this amazing technology and innovation made it possible for the very first video hosting website, shareyourworld.com, to go live in 1997, running until 2001 when budget and bandwidth constraints forced it to fold. The real game-changer came in 2005, however, when PayPal employees went live with YouTube on Valentine's Day, making it possible for users to watch, share and upload video easily.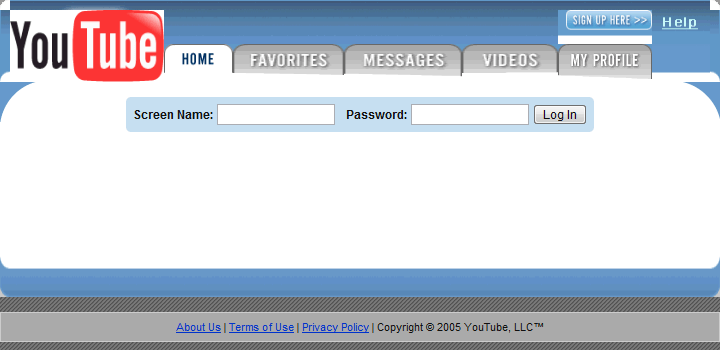 Over the summer of 2006, YouTube was one of the web's fastest growing websites with 100,000 daily video views. By October, Google had gotten in on the action, purchasing YouTube for $1.65bn in stock. In 2007, the website was consuming as much bandwidth as the entire internet did back in 2000, and the real growth was only just beginning.

Today the platform has over a billion users – that's more than a third of all people on the internet, with the number of channels earning at least six figures doubling year on year. Over half of all YouTube views now come from mobile devices, with users accessing the platform via 88 different local versions in different countries, in 76 different languages. Other competing video platforms including Vimeo, Vidyard, Brightcove and DailyMotion are readily available, but YouTube's supremacy is unequivocal.
Video is still growing & vlogging is huge
The rise of video is showing no signs of slowing down. At the start of 2016, digital video advertising was expected to rise by 28.5%, with video making up a whopping 64% of consumer traffic in 2014 – expected to rise to 79% by 2018.
With fast broadband making it easy for users to access video on demand – even on the go via mobile – we're now consuming more video than ever before, with appetites for "easy to consume" video, (which offers a more instant, personal connection with brands and vloggers) trouncing longer form written content which calls for more active engagement and attention.The vloggers and channels at the forefront of this upward curve have benefited hugely from early uptake. Companies like news channel VICE have made their name via publishing quality video content, harnessing the power of YouTube all the way back in 2005. With over 7.5 million subscribers and 1.2bn views, capturing the zeitgeist with this accessible format contributed heavily to the news outlet's success.
Individual vloggers like Shane Dawson (YouTube's 3rd most subscribed vlogger with more than 9 million subscribers) now have huge audiences and thus wield huge influence online, making them a very valuable resource for brands keen to spread the word about their product digitally. Sponsoring huge vloggers like Shane, or even smaller vloggers in more specific niches, gives brands huge reach – but does come at a cost depending on the "star power" of the personality.
One of the UK's most famous influencers, beauty maven Zoella, is reported to make up to £50,000 a month via sponsorship, endorsements, affiliate links, advertising and her personal brand.
Getting involved
In our live video blog, we explored a few techniques brands can use to create their own content, from producing how to's and product videos, to "behind the scenes" videos and footage of events. We also explored opportunities for brands to source user generated video content to help them harness the trust- and reach-boosting potential of sharing video made by a target market's peers.
Today we'll be sharing a few techniques to help brands connect with influencers (vloggers) and channels on YouTube to help get your product or service into the digital spotlight:
You don't have to "go big"
Huge YouTube personalities like Zoella know exactly how valuable they are to brands – and charge accordingly. They may maximise exposure, but you don't need a huge budget to see your "stuff" featured in a YouTube channel. Instead, many smaller vloggers (who still have reasonably sized followings) will feature products simply if they are offered as "freebies" – especially if they are relevant to the channel.To make the most of these sorts of opportunities, it's best to get specific, thereby maximising the number of viewers who will be interested in what you have to offer. Drill down into your market research and identify the types of content your demographic watch online. Then begin exploring each niche, interacting with small and medium vloggers in order to find a mutually beneficial fit.
Don't be sneaky
If you do make some good connections, make sure that your products are promoted on screen in a responsible and transparent way. As a growing advertising trend, most viewers are now fairly savvy about how this type of sponsorship works, as is YouTube and the ASA (Advertising Standards Agency). That means it's important to be up front in order to avoid negativity. Clearly labelling sponsored posts is essential, preventing users from feeling "scammed" or incurring penalties from YouTube and official bodies. Read up on the latest guidelines.
Challenge vloggers to "do something"
Nobody wants to watch an awkward video where a vlogger spends five minutes trying to fill airtime by talking about how great your product is. Instead, challenge your vlogging partners to "do something" which links to or involves your product. For a lipstick, that could mean covering a boyfriend's face in as many lipstick kisses as possible in 30 seconds. For an item of clothing, that could mean creating three totally different looks using your product – the only limit is your imagination! Don't forget to listen carefully to what your vlogging contacts have to say, they know their audiences better than anyone, so take their suggestions on board.
Make the valuable visible
After you've invested hard work, planning, freebies and/or money in your sponsored video, don't just sit back and let the views roll in. Instead, grab the bull by the horns and start sharing the content widely yourself. From posting links on your social media channels and website, to showcasing your new endorsement via an interactive video wall, do all you can to expand the reach of your vlogging initiative.
Maximising reach with Miappi
Our vivid social walls are ideal for showcasing video anywhere, from your homepage, to digital screens at your next live event.
With tonnes of YouTube embed options, our content marketing engine helps combine all of your social platforms in seconds, offering vibrant display options, intelligent curation and moderation tools, calls to action and advanced analytics too. Whether you're presenting your video content complete with your brand's colour scheme, or measuring clickthroughs to demonstrate ROI, our video social walls make the valuable visible, showing off your brand's best assets and maximizing your investment.Make the valuable visible. REQUEST A DEMO today to showcase amazing content which presents your brand at its best.